Remodel: Background
Table of Contents
Our Remodel: The Background
COVID changed a few things about the way we used our house, including me working from home and cooking at home dramatically more. Before COVID, we would eat out most nights on the way home from work. Now we cook at home about six nights a week and I work from home 99% of the time.
We've talked about a remodel for a while, honestly since we bought the house. Nothing was updated so it was a conversation we had when buying the house.
General Idea: Enlarging the kitchen
In terms of general ideas, the oldest sketches I have are from April 26, 2021, where I was dreaming about a new kitchen layout that traded our existing U-shaped kitchen that separated off the dining area for something more modern. Plus we knew we wanted to remove the wall between the kitchen/dining and the living room.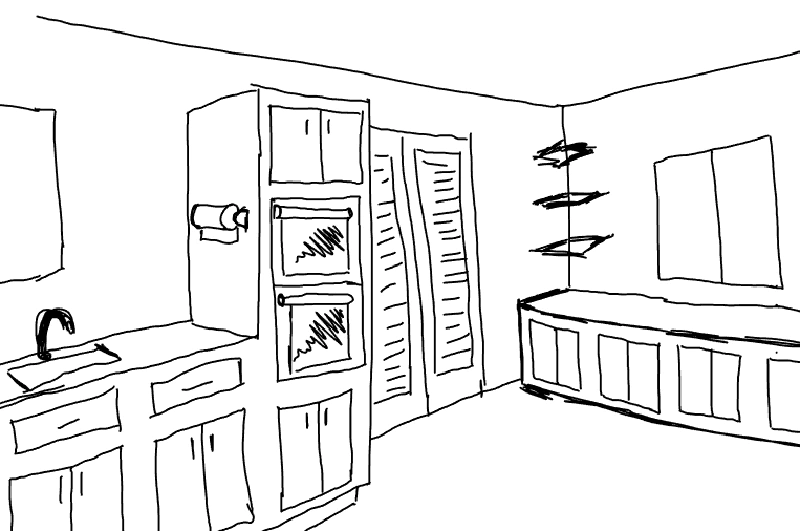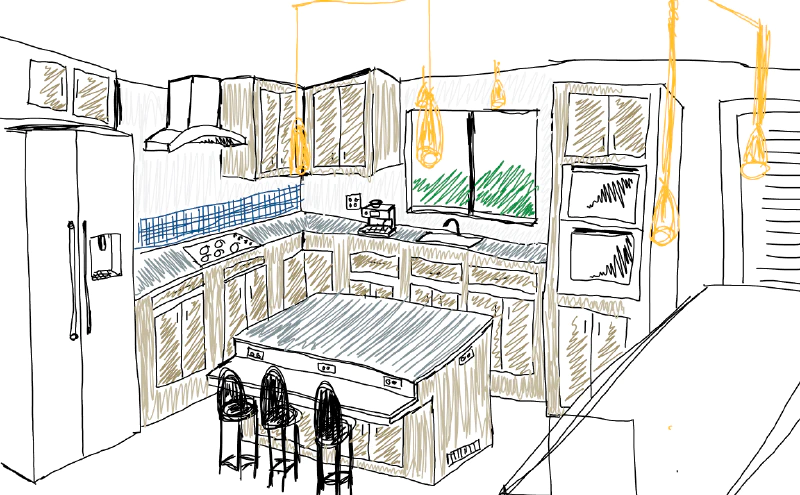 That was the extent of the early plan, a revised kitchen.
(At some point, I also dreamt of vaulting the ceiling.)
Specific Idea: Primary Bedroom Closet
I had an idea for a way to reshape our bedroom by giving up some space in the back of the room to create a new walk-in closet. The five foot hangar bar wasn't going to cut it.
My first render of this was dated Feb 26, 2022.
Aside: A deck with a hot tub…
If you know our primary bedroom already (huh?!), you may notice the new exterior door drawn there. I don't know when the idea came together but we decided on enlarging the deck to add a hot tub.
I've always wanted a hot tub. This house "came" wired for one, supposedly, but I've never verified. We've flirted with the idea a few times, I got quotes a couple times over the years and really fell in love with the local brand, Clearwater Spas.
Specific Idea: Split the Basement
Working from home means we use one bedroom as an office, where Kaycee and I have mirrored desks. The second upstairs bedroom doubles as my workshop and the guest bedroom. Because we also only have a carport, there's no garage to use as a workshop.
At one point, I proposed splitting the large room in our basement in half (by building a wall under the floor beam) to get a permanent space to use as an office, workshop, and home gym. Cutting the window to create a French door that allows additional work areas.
Remaining Ideas
Enclose the garage
Pave under the deck
Sidewalk to the mother-in-law door without stairs
Redo the bathrooms
Planning The Project
Some of these ideas were more expensive than others, so we really wanted to focus on just three parts first:
remove the kitchen wall to open up the space
build the basement wall to create my office
build the bedroom wall to create a closet
I wanted the deck too, so we started to gather quotes.
A quick note about cost.
On this blog, I won't disclose the price of the work we're doing. A few reasons:
We're in a very high cost of living area (Redmond, WA) and the wages of local tradespeople reflect that. For example, I heard plumbers in Seattle will charge $400/hr for the first hour and $250/hr after that.
We're building in the shadow of a severe supply chain disruptions. There are a million articles online about this.
Currently, inflation is nearly 10%. Prices keep going up, independent of supply chain price issues.
We have high salaries. That justifies some decisions we made that wouldn't otherwise be considered.
Getting Quotes
I talked to a few people about the house changes. Most wouldn't talk to me unless I had the architected plans, and permits in hand. Hm…
I also got a few quotes for the deck. It's funny the quality differences in the people who came out. One clown in particular: "It's a second story deck, so you need a permit. I can do it for X without permits." Um, ok, and permitted? "If you want it permitted, it's 50% more and I won't do it."
I'll name Master Decks here as a local, very professional firm that quoted in an extremely high level of detail. I found them through a friend's referral. I would have no issue with using them to build a deck except…
Going with a GC
We settled on a general contractor, Randy.
He was willing to run the whole project, starting from my sketches and drawings. I obsessed on a few details to make sure they were right. I'll cover those later.
Scope Creep
We had a budget.
Three walls and a deck… turns into everything.
First quote was 1.25x our initial budget.
So we added the kitchen, vaulting the ceiling, and enclosing the garage.
After that quote, we were happy at about 2.25x the initial budget.
So we asked a friend and he said "You're building your dream home and NOT changing the bathrooms?" I used the word "serviceable" when describing them.
Ok, so we'll add the bathrooms too.
3x.
We did say no to some things at this point to defend that 3x initial budget line, I'll cover those later.
We'll probably change the scope a little too, I'll get there.